So whilst most of us are on Lockdown at home things can become a little stir crazy and if like me you may still put off the jobs that you don't really want to do!
However, I'm ashamed to say this was my office last week!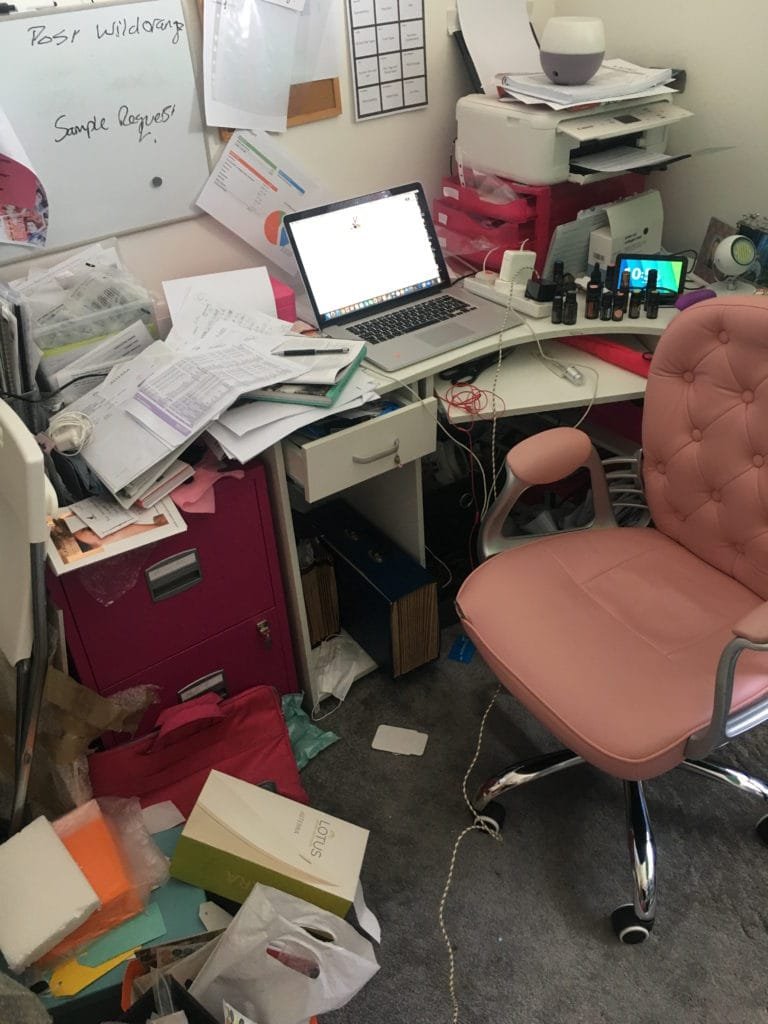 1 in 5 people are predicted to have enough clutter in their homes to fill a small bathroom it's safe to say we're a nation of hoarders, the typical UK household is filled with £3450 worth of clutter- that's £93 billion nationally. For so many of us material things are taking over our lives- but times are changing.
If decluttering is something you constantly put off then it's likely you don't realise just how beneficial it can be- not only on a practical level in your home but also for your state of mind. Clutter, however you define it, can be bad for your health. According to to Psychology Today, people tend to feel like life is out of control when they surround themselves with more things than they can manage. Mess causes stress – and you might find a little clutter clearing to be really therapeutic.
I can definitely vouch for it after my tranformation! It was really satisfying and I love being in here now.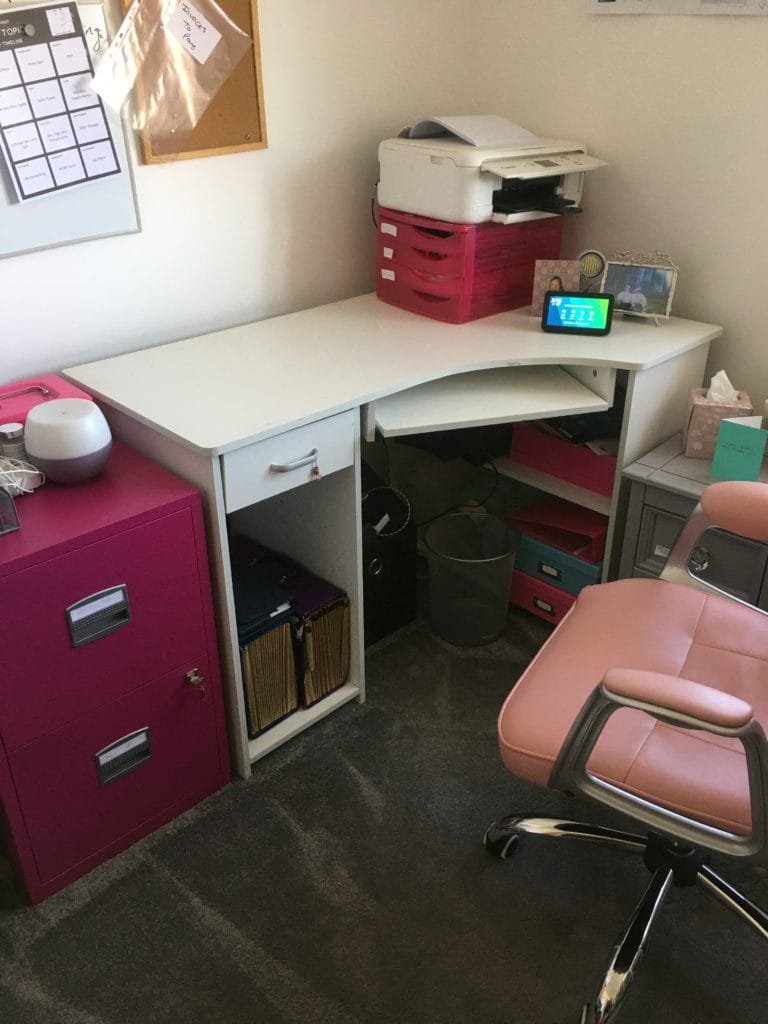 This can be achieved in any room
Follow this simple guide!
Be Ruthless
Most of us have things we cling onto unnecessarily, whether that's for sentimental reasons, because we feel bad throwing it away or because we think our childhood toys might be worth a fortune on Ebay one day. When going through old stuff it's important to ask yourself- do I really need this to cherish the memory? Will my Nan even notice if I throw away this unused gift she got me five years ago? Will my cabbage patch kid ever be worth £10000? If the answer is no, let it go. With less stuff it'll be much easier to achieve that minimal, cosy-clean look in your home.
Think about the time you last used/wore it
Another excuse we give ourselves for not throwing stuff away is 'I might need it again someday'- especially with clothes. If you're one of those people with a wardrobe full of stuff but nothing to wear then it's time for a clear out. If you haven't used/worn something you've come across in the last 6 months then you should probably get rid of it. If you found something and thought '"I've been wondering where that was for ages" then you should probably get rid of it. If you've found something you didn't even know you had then you should definitely get rid of it.
Clear-Organise-Store
This is your clutter clearing mantra. Decluttering can be such a big task that it's hard to know where to start. The first step is to remember that it's not just about containing things you don't really need in a lovely selection of storage baskets- it's about getting rid of things too. Clear first, organise afterwards and ONLY THEN may you store.
Enhance your Wardrobe Storage
So you've cleared out all the clothes you've accepted you'll never wear / fit into again. Good for you. Now work on making the most of your wardrobe space to clear away clutter from elsewhere. Shoe racks, hanging wardrobe organisers and wardrobe storage boxes are a great way to maximise storage space and prevent clothes from piling up on the floor. If you sill need more space for clothes a clothes rails is a great idea- just stick to a few of your favourite pieces to nail that minimal clutter-free look.
Giving is Good
It goes without saying that there are a lot of people in this world who'll appreciate your old school jumper more than you do. Don't just throw unwanted things in the bin- put as much stuff as you can from clothes and toys to blankets and toiletries in a donation box for charity.
Furniture too
When it's time to let go of clutter you want it out of your house as quickly as possible. If you've go t no takers on Gumtree or Ebay then there's loads of great charities you can donate unwanted furniture to instead. For example, The British Heart Foundation will collect small furniture for free.
Clean out shelving and Cupboards
Just because cupboards are hidden doesn't mean that you shouldn't go through them. A good clear out of your cupboards from the kitchen and living room to the bathroom and bedroom will open up so much space when it's time to organise and store the things you've chosen to keep.
Shelves aren't an excuse to store things you don't need just because you've got the space for it. In an increasingly paperless society shelves are not only for stacking files and paperwork but also for displaying those few treasured pieces you've chosen to keep. Make sure everything on your shelf is there for a reason- that way it fits a practical storage purpose but also looks neat and minimal in your space.
Planning to get your head in gear
Procrastinating tasks like this is often because you 'don't know where to start' this is how it is for me anyway using the office example it had got so out of control I just kept closing the door on it as I could't face the MAMMOUTH task.
So with some careful planning you can talk yourself into the fact that it might not be as bad as you initially thought.
So I had a think about coming up with an effective tool to help, including getting the things needed ready before you go to start it.
I mainly had paperwork all over the place that needed sorting out first as that is really important, so for my client files I needed sturdy, safe boxes that can be stored securely for a number of years and so I needed to order proper archive boxes. These would take a few days to arrive so it was no good saying I would start today and this gave me chance to check for the other things I would need, eg locating my shredder and getting bin bags etc.
This really helped and so I want to share it with you in this FREE download.
Give it a try and please let me know how you got on in the comments below!